For the Hero, see Serena (Hero).
For the Lieutenant, see Serena (Lieutenant).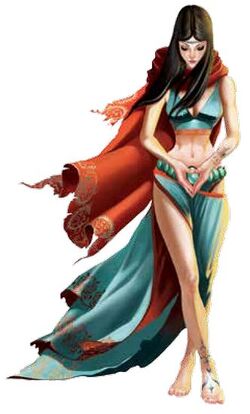 Serena is an ally in the Labyrinth of Ruin expansion.
Biography
Edit
This peaceful-seeming priestess of the Sudanyan tradition has lived alone in the wilderness for many years, her days filled with base survival needs and endless meditation. Beautiful and powerful, she knows the time draws near when she will be called to serve the ancient city, and she has no intention of shirking her duty.
Statistics
Edit
Attack Type: Melee
1
3
3
2
Special 1
: Soothing Spirit
Special 2
: +1
Special 3
: Stun
Heroes
Speed
Health
Defense
2
3
10
1 Gray
3
3
8
1 Gray
4
3
8
1 Brown
Attack
1 Blue + 2 Green
Abilities
Edit
Soothing Spirit: Each hero adjacent to this ally may recover 1 Damage and 1 Stamina (limit once per turn).
Stun: If this attack deals at least 1 (after the defense roll), the target is Stunned.
Ad blocker interference detected!
Wikia is a free-to-use site that makes money from advertising. We have a modified experience for viewers using ad blockers

Wikia is not accessible if you've made further modifications. Remove the custom ad blocker rule(s) and the page will load as expected.