For the Agent, see Rylan Olliven (Agent).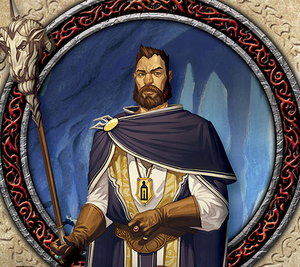 Rylan Olliven is a lieutenant in the Shadow of Nerekhall expansion.
Biography
Edit
Not all enemies are blatantly antagonistic. Some prefer to win your trust before a quick and deadly betrayal. The eldest son of Count Galayne Olliven, Rylan is an important figure in Nerekhall. As a gifted mage and scholar, he returned from his study at the University in Greyhaven and devoted himself to the magical defenses of the city, holding the post of Chief Artificer and serving as one of Nerekhall's magistrates. Despite his many good deeds, Rylan's influence is increasing quickly, causing many cities to become wary of his rising power.
Statistics
Edit
Attack Type: Ranged
Base Size: 1x1
1
4
3
3
Special 1
: Influence
Special 2
: Subdue
Special 3
: +2
Heroes
Speed
Health
Defense
2
3
8
1 Gray
3
3
10
1 Gray
4
3
12
1 Black
Attack
1 Blue + 2 Green
1
4
3
3
Special 1
: Influence
Special 2
: Subdue
Special 3
: +2
Special 4
Precise
Heroes
Speed
Health
Defense
2
3
12
1 Black
3
3
14
2 Gray
4
3
17
2 Gray
Attack
1 Blue + 1 Red + 2 Green
Abilities
Edit
Precise: Adjacent figures do not block line of sight.
Influence: Choose 1 figure adjacent to Rylan Olliven. That figure immediately performs an action of the controlling player's choice. Limit once per round.
Subdue: If this attack deals at least 1, choose 1 condition. The target suffers from the chosen condition.
Ad blocker interference detected!
Wikia is a free-to-use site that makes money from advertising. We have a modified experience for viewers using ad blockers

Wikia is not accessible if you've made further modifications. Remove the custom ad blocker rule(s) and the page will load as expected.