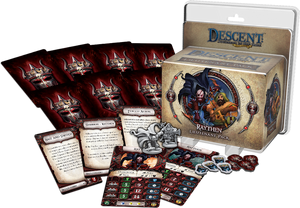 The Raythen Lieutenant Pack is a Lieutenant Pack featuring both lieutenant Raythen, and Hero Raythen, from the expansion Descent: Labyrinth of Ruin
Description
Edit
With this Lieutenant Pack for Descent: Journeys in the Dark Second Edition, you can replace the game's lieutenant and ally tokens and bring Raythen to life as an agent of the overlord, or as a hero! The Raythen Lieutenant Pack features two detailed plastic figures, representing both Raythen the hero and Raythen the lieutenant. The dwarf thief from Labyrinth of Ruin is now truly on equal footing with Terrinoth's champions, whether he fights for good or for evil. This Lieutenant Pack includes a plot deck and rules that allow the overlord to pursue devious new strategies, as well as a Hero sheet, allowing Raythen to join the heroes of Terrinoth in a campaign!
Component List
Edit
This lieutenant pack includes the following:
2 Plastic Figures
1 Rulesheet
1 Hero Sheet
2 Agent Cards
10 Plot Cards
16 Threat & Fortune Tokens
Skullduggery
Edit
The plot deck for the Raythen Lieutenant Pack is called Skullduggery. Its tactics revolve around monster being able to move and manipulate Search Tokens. The plot deck contains the following cards:
Petty Theft - Starting card
Cursed Treasure
Concealment
Slippery
Distraction
Bait and Switch
Covetous
Foiled Again
Guarded Treasure
Summon - Raythen
Ad blocker interference detected!
Wikia is a free-to-use site that makes money from advertising. We have a modified experience for viewers using ad blockers

Wikia is not accessible if you've made further modifications. Remove the custom ad blocker rule(s) and the page will load as expected.