For the Hero, see Raythen (Hero).
For the Ally, see Raythen (Ally).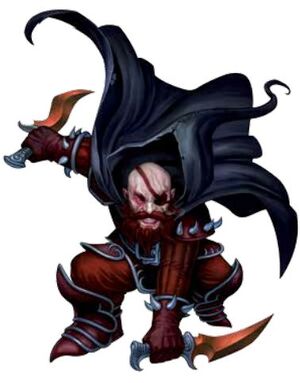 Raythen is a lieutenant in the Labyrinth of Ruin expansion.
Biography
Edit
Escaping the certain death of the Dunwarr expedition massacre, this clever rogue understands one simple thing: the greater the stakes, the greater the payoff. Not one to be easily frightened off, he knows there has to be something valuable left in Sudanya to create this kind of brutal response. Whatever riches may be found, Raythen just needs to find another group of rubes - or rather stalwart heroes - capable of getting him there.
Statistics
Edit
Attack Type: Ranged
Base Size: 1x1
3
3
3
3
Special 1
Opportunist
Special 2
Pilfer
Special 3
Stun
Special 4
+3
Heroes
Speed
Health
Defense
2
5
8
1 Brown
3
5
10
1 Gray
4
5
12
1 Gray
Attack
1 Blue + 1 Red + 1 Green
Abilities
Edit
Opportunist: Each of Raythen's attack gains 1
for each adjacent Immobilized Hero and 2
for each adjacent Stunned Hero.

Pilfer: If Raythen is adjacent to a search token, the overlord may look at the top card of the Search deck. Then he may place it at the top or the bottom of the deck.
: Stun: If this attack deals at least 1

(after the defense roll), the target is Stunned.
Ad blocker interference detected!
Wikia is a free-to-use site that makes money from advertising. We have a modified experience for viewers using ad blockers

Wikia is not accessible if you've made further modifications. Remove the custom ad blocker rule(s) and the page will load as expected.