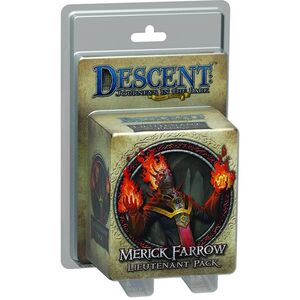 The Merick Farrow Lieutenant Pack is a Lieutenant Pack featuring Lord Merick Farrow from the base set of Descent: Journeys in the Dark (Second Edition).
Description
Edit
The Ill-Fated Lord!
"Lord Merick will stop at nothing to return his brother from the dead."
With Lieutenant Packs for Descent: Journeys in the Dark Second Edition, you can replace the game's lieutenant tokens and bring the overlord's most powerful agents to life. The Merick Farrow Lieutenant Pack features a detailed plastic figure that places its deadly operative, one of Terrinoth's greatest necromancers, on equal footing with the realm's champions. Moreover, it includes a plot deck and rules that allow the overlord to pursue devious new strategies, allowing this power-hungry magician to challenge Terrinoth's heroes throughout any campaign!
Component List
Edit
This lieutenant pack includes the following:
1 Plastic Figure
1 Rulesheet
2 Agent Cards
10 Plot Cards
16 Threat & Fortune Tokens
Cursed by Power
Edit
The plot deck for the Merick Farrow Lieutenant Pack is called Cursed by Power. Its tactics revolve around getting bonuses when using Magic cards from the Overlord deck, and allowing the heroes to trade received damage. The deck contains the following cards:
Ad blocker interference detected!
Wikia is a free-to-use site that makes money from advertising. We have a modified experience for viewers using ad blockers

Wikia is not accessible if you've made further modifications. Remove the custom ad blocker rule(s) and the page will load as expected.