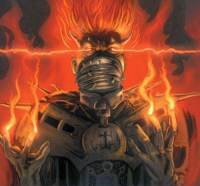 Lord Merick Farrow is an agent in the Cursed by Power Plot deck. He can be summoned by purchasing the plot card Summon - Merick
Statistics
Edit
Attack Type: Ranged
Base Size: 1x1
Special 1
Aftershock
Special 2
: Ignite
Special 3
: +1
Heroes
Speed
Health
Defense
2
4
8
1 Gray
3
4
11
1 Gray
4
4
13
1 Gray + 1 Brown
Attack
1 Blue + 1 Red
Special 1
Aftershock
Special 2
: Ignite
Special 3
: Wither
Special 4
: +1
Heroes
Speed
Health
Defense
2
4
10
1 Gray + 1 Brown
3
4
12
2 Gray
4
4
15
1 Black + 1 Gray
Attack
1 Blue + 1 Red + 1 Yellow
Abilities
Edit
Aftershock: When an adjacent hero attacks this monster, after the attack is resolved, the hero must test . If he fails, he suffers 1 .
Ignite: Lord Merick Farrow suffers 1 to perform an attack that targets all adjacent figures. Each figure rolls defense dice separately. Merick may not perform this action if suffering the would defeat him.
Wither: The target suffers 1 .
Lord Merick Farrow first appeared in the first edition expansion, Road to Legend.
Ad blocker interference detected!
Wikia is a free-to-use site that makes money from advertising. We have a modified experience for viewers using ad blockers

Wikia is not accessible if you've made further modifications. Remove the custom ad blocker rule(s) and the page will load as expected.