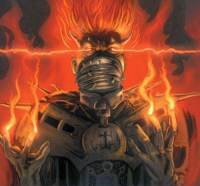 Lord Merick Farrow is a lieutenant in the Descent: Journeys in the Dark (Second Edition) base game.
Biography
Edit
When Lord Merick Farrow's brother Sir Alric died in battle, it was a tragedy for all the Free Cities. However, when Lord Merick struck a deal with the dark powers to get his brother back, it foretold their doom.
Merick Farrow's desire to raise his brother from the dead led to his exploration of magic, and his necromantic experiments eventually led to his downfall. Corrupted by the power he was able to harness, Merick Farrow now serves as one of the Overlord's most sinister agents.
Merick appears in The Shadow Rune, the Labyrinth of Ruin, and the Heirs of Blood campaigns. His Lieutenant Pack includes the plot deck Cursed by Power.
Statistics
Edit
Attack Type: Ranged
Base Size: 1x1
2
4
2
3
Special 1
Aftershock
Special 2
: Ignite
Special 3
: +1
Heroes
Speed
Health
Defense
2
4
8
1 Gray
3
4
11
1 Gray
4
4
13
1 Gray + 1 Brown
Attack
1 Blue + 1 Red
2
4
2
3
Special 1
Aftershock
Special 2
: Ignite
Special 3
: Wither
Special 4
: +1
Heroes
Speed
Health
Defense
2
4
10
1 Gray + 1 Brown
3
4
12
2 Gray
4
4
15
1 Black + 1 Gray
Attack
1 Blue + 1 Red + 1 Yellow
Abilities
Edit
Aftershock: When an adjacent hero attacks this monster, after the attack is resolved, the hero must test . If he fails, he suffers 1 .
Ignite: Lord Merick Farrow suffers 1 to perform an attack that targets all adjacent figures. Each figure rolls defense dice separately. Merick may not perform this action if suffering the would defeat him.
Wither: The target suffers 1 .
Lord Merick Farrow first appeared in the first edition expansion, Road to Legend.
Ad blocker interference detected!
Wikia is a free-to-use site that makes money from advertising. We have a modified experience for viewers using ad blockers

Wikia is not accessible if you've made further modifications. Remove the custom ad blocker rule(s) and the page will load as expected.