For the Lieutenant, see Kyndrithul

.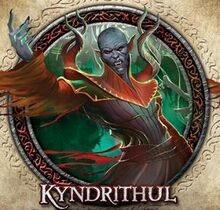 Kyndrithul is an agent in the Kyndrithul Lieutenant Pack. He can be used by purchasing the Summon Kyndrithul plot card from the Vital Essence plot deck.
Base Stats
Edit
Attack Type: Ranged
Base Size: 1x1
Abilities
Edit
Enthrall is a variation of the homonymous Overlord card.
Ad blocker interference detected!
Wikia is a free-to-use site that makes money from advertising. We have a modified experience for viewers using ad blockers

Wikia is not accessible if you've made further modifications. Remove the custom ad blocker rule(s) and the page will load as expected.