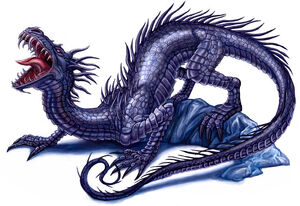 For the Shards of Everdark monster, see Ice Wyrm.
Ice Wyrm is a monster in the Second Edition Conversion Kit. There is also a version of this monster in Shards of Everdark.
Description
Edit
These creatures are huge, segmented, wingless drakes, with an evil disposition matched only by their ferocious tenacity. Their rock-hard scales are rendered even more stiff and impenetrable by the frozen environs where they make their homes. Elongated necks enable cobra-like strikes, and the giant, toothy maws of the largest Ice Wyrms make the possibility of being swallowed whole very real indeed.
Statistics
Edit
Monster Group Size
#
Heroes
Minions
Masters
2
1
0
3
0
1
4
1
1
Speed
4
Health
7
Defense
2 Gray
Special 1
Reach
Special 2
Freezing
Attack
1 Blue + 1 Red
Speed
4
Health
11
Defense
2 Gray
Special 1
Reach
Special 2
Freezing
Attack
1 Blue + 2 Red
Speed
4
Health
14
Defense
2 Gray
Special 1
Reach
Special 2
Freezing
Special 3
Swallow
Attack
1 Blue + 2 Red
Abilities
Edit
Reach: This monster may attack targets up to 2 spaces away.
Freezing: Each time a hero enters a space adjacent to this monster, that hero suffers 1 .
Swallow: If a hero is defeated by this monster, remove his hero token from the map and place it on this monster's base. The hero cannot be revived until this monster is defeated, at which point his hero token is placed in one of this monster's spaces.
Q: Does the Swallow ability prevent standing up, or only revival?
A: The Ice Wyrm Swallow ability only prevents revival, not a hero performing a stand up action. (source)
Ice Wyrms first appeared in the Tomb of Ice expansion from Descent: Journeys in the Dark (first edition).
Ad blocker interference detected!
Wikia is a free-to-use site that makes money from advertising. We have a modified experience for viewers using ad blockers

Wikia is not accessible if you've made further modifications. Remove the custom ad blocker rule(s) and the page will load as expected.