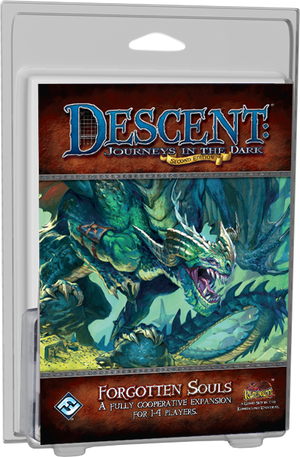 As you begin your journey into the dungeon, corpses that lined the floor begin to writhe to life. Behind you, near the sealed entrance, monstrous beasts appear from the shadows. You must stand or fall together!
Forgotten Souls is an expansion found in the 2014 Season One Game Night Kit for Descent: Journeys in the Dark (Second Edition), enabling one to four players to experience a cooperative mini campaign over the course of a single evening. It became available for purchase per Fantasy Flight Games' Print-on-Demand service in July, 2014.
It was first announced on 1. January 2014[1], and released on 22. July 2014[2].
Contents (Print-on-Demand version)
Edit
10 Peril Cards
1 Title Sheet
1 Track Sheet
1 Reference Sheet
Contents (Game Night Kit)
Edit
The Forgotten Souls cooperative adventure for Descent: Journeys in the Dark
Four cardstock playmats for organizing each hero's materials, featuring places for Skill cards, conditions, items, hero tokens, and more.
Four translucent blue attack dice – one for each player
Four sets of six acrylic wound tokens – two 'fives' and four 'ones.'
One sixteen-page rules sheet explaining how to play cooperative Descent: Journeys in the Dark
One eight-page info booklet
One promotional poster with iconic art from the Lair of the Wyrm expansion
The monsters associated with this Co-Op Campaign are:
Set Icon
Edit
All the cards and sheets found in this expansion are marked with the Forgotten Souls expansion icon to distinguish these components from those found in the base game.


External Links
Edit
Ad blocker interference detected!
Wikia is a free-to-use site that makes money from advertising. We have a modified experience for viewers using ad blockers

Wikia is not accessible if you've made further modifications. Remove the custom ad blocker rule(s) and the page will load as expected.