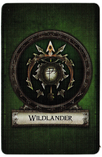 Wildlander
is one of the class options for the archetype
Scout
.

This class was first introduced in the
Second Edition base game.
The Wildlander's play style revolves around additional movement and bonuses when using a Bow weapon. Its starting equipment are the Yew Shortbow and the skill Nimble.
List of Skills
Edit
Name
XP
Text
Play Cost
Nimble
0
Each time a monster moves into spaces adjacent to you, you may use this card to move 1 space; then the monster may continue its activation.
1
Accurate
1
Each time you perform an attack with a Bow you may reroll 1 power die (limit 1 per attack).
-
Danger Sense
1
: Exhaust this card to force the overlord to discard 1 Overlord card from his hand at random.
2
Eagle Eyes
1
When you perform an attack with a Bow, friendly figures do not block your line of sight
-
Bow Mastery
2
When you attack with a Bow, you may exhaust this card to add 1 to the results.
-
First Strike
2
During the overlord's turn, immediately after he chooses a monster to activate, you may exhaust this card to perfom an attack targeting that monster with a Bow. After this attack is resolved, if the monster was not defeated, it may continue its activation.
2
Fleet of Foot
2
Each time you suffer 1 to gain 1 movement point, you instead receive 2 movement points.
Each time you use Nimble, you may move 2 spaces instead of 1.
-
Black Arrow
3
: Perform an attack with a Bow. This attack gain +2 range.
If you deal less then 3 (after rolling a defense dice),
deal 3 instead (unless this attack misses).
1
Running Shot
3
Each time you perform an attack with a Bow, you may move up to 2 spaces either before declaring a target or after the attack resolves.
If you have Heavy Armor equipped, you may only move 1 space.
-
Pages in category "Wildlander"
The following 11 pages are in this category, out of 11 total.
Ad blocker interference detected!
Wikia is a free-to-use site that makes money from advertising. We have a modified experience for viewers using ad blockers

Wikia is not accessible if you've made further modifications. Remove the custom ad blocker rule(s) and the page will load as expected.