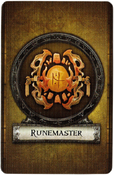 Runemaster
is one of the class options for the archetype
Mage
.
This class was first introduced in the
Second Edition base game
The play style of the Runemaster revolves around enhancing the attacks made by a rune weapon, like gaining blast or surge bonuses. Starting equipment for a this class are the Arcane Bolt and the skill Runic Knowledge.
List of Skills
Edit
Name
XP
Text
Play Cost
Runic Knowledge
0
While you have a Magic or Rune weapon equipped, each of your attacks gains:
: Suffer 1 to gain +2
-
Exploding Rune
1
: Perform an attack with a Rune weapon. The attack gains Blast.
1
Ghost Armor
1
After your defense roll, use this card to add 1 to the results.
1
Inscribe Rune
1
Any weapon you equip gains the Rune trait while equipped.
-
Iron Will
2
You gain +1 Stamina.
Each time you spend 1 during an attack to recover 1 , you instead recover 2 .
-
Rune Mastery
2
When you attack with a Rune weapon, you may exhaust this card to add 1 to the result.
-
Runic Sorcery
2
: Perform an attack with a Rune weapon. If this attack deals at least 1 (after rolling defense dice), choose 1 condition. The target suffers the chosen condition.
1
Break the Rune
3
: Perform an attack with a Rune weapon. This attack ignores range and targets each other figure within 3 spaces and in your line of sight. Each figure rolls defense dice separately.
4
Quick Casting
3
After you perform an attack with a Rune weapon, exhaust this card to immediately perform an additional attack.
2
Pages in category "Runemaster"
The following 11 pages are in this category, out of 11 total.
Ad blocker interference detected!
Wikia is a free-to-use site that makes money from advertising. We have a modified experience for viewers using ad blockers

Wikia is not accessible if you've made further modifications. Remove the custom ad blocker rule(s) and the page will load as expected.